Mamma Louve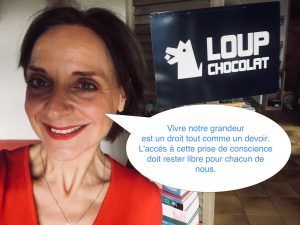 Welcome to all, please discover the horizon is proposed here…
A little of history
Loup Chocolat is the result from personal reflections and researches. Early in my life, I started to ask myself about feelings and emotions: there are always the ones we know very well and others we find they are missing in our existence.
Some life trials can make us experiment extreme feelings or emotions always in a singular way. We jump from one the other one and it can look like a no ending war. But, in our deep inside, peace is what we are looking for.
I took my "luggage full of wiling to understand" and went to discover this world we have inside. I made long ways by myself and could encounter sometime very hard, sometimes passionate, sometimes sad realities and situations. A real discovery of this human being who lives there.
Along the way, I found this explanation: "If you want, you can exchange the hurt way you experiment those extreme feelings with the possibility to make them living together. The perspectives will change. The horizon is not anymore the same when you understand you are not only one of those facets, you are both. Together, they form the human greatness. Challenge them, it is worth".
Loup Chocolat was born like a new start in my life !
The discovery continues day after day. It is infinite and complex. However, something is still very simple: as long as life is here, everything lives within us. The best version of us, the joy, happiness and peace come from a conscious act. Unless we find back the little child in us who will choose this way just naturally…
A quote from ALBERT EINSTEIN continues to inspire me:
THE MOST INCOMPREHENSIBLE THING ABOUT THIS WORLD IS THAT IT IS COMPREHENSIBLE
The world he mentioned is probably the mirror and the sum of what each of us are living in his respective inner world. This is how I understood it.
LOUP CHOCOLAT was born like an evidence
A metaphor that represents the human being, the human beings together, the world.
Two polarized facets far and also close that have got to love to live together : "to eat, to be eaten", "to lead, to follow" ecc. We can never be only one of those faces. 
By knowing that, we can choose the best combination that will support and encourage our greatness, the one that drives us always a bit further.
Our greatness is our right as well as our duty, nothing can erase it. One life is one opportunity for the world to become better. 
MAMMA LOUVE is the other evidence. It encompasses my origins, the determination and the kindness. 
My mission is simple : spread out the Loup Chocolat message and encouragement  as much as possible by realizing various projects  related with expression and by finding partnerships in any other areas.
THE BAGS are the first pillar of this incredible adventure. They enable to build what comes next… One bag, a real symbol for all new starts in life. Last, but not least, today, the Loup Chocolat bag is the only one on earth for which you pay what you want. Discover why here. 
Let's go, a nice trip is waiting for us : the ours. What do we do if not this ? 
Look forward to cross your path.
Mamma Louve
(Maria Grazia PAPARONE)
LC World
Loup Chocolat World
Vision : A world free to be responsible and creator of its happiness
Mission : Spread out this message around the world throught projects and partnerships with companies and cities.
The motor ? Childhood of this world and futur generations. Since the birth of Loup Chocolat (2006) it has always been the motor. We have got a role as "example" to play for our children and grandchildren in order to let them tools and inspiration when they will pilot this world, soon.
Philosophy
FACE HOW GREAT YOU ARE
As long as life is there, life is the strongest. Nothing should stop anyone of us to choose to live the own greatness. Everyone's greatness counts for the world. 
Key Values
Freedom & responsibility : they grow up at the same time, one feeds the other one and vice versa. There is no big freedom without big responsibility.
Functionality & creativity: based on one statement, imagine a solution that improve the reality and fulfill human needs.
Accessibility & balance: the actions to create more balance have to stay accessible for everyone. Then, each of us have to act in some way.

 
Identity & strength: our strength is within our own story "Housemade strength". Let's be proud of who we are.

 
Spontaneity & bravery: it offers always good surprises by being yourself…


Endurance & endurance : because we need endurance to see we are able to let obstacles behind us. Who are we to not keeping going ahead ?

 
Laugh, humour & play: the best is there, we know it. (One day we feel we can laugh of what hasn't been « funny » in our life. What has been funny, just let's don't change it).

 
THE BAG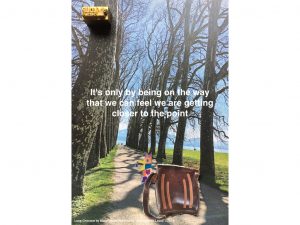 More than a simple bag…
Unisex, functional sober and classy, Loup Chocolat bag's mission is to remind you that you deserve the dream you have. You have got the greatness to make reality. Loup Chocolat bag will accompany you on the way to your goal…
Are-you a company, an organization, an event ?  Loup Chocolat makes special thing for you. You can 
– Customize a series of bags based on one existent model (FACE (How great you are), HAPPY CIRCLES),
– Customize one accessory like : pencil case, travel case, shopping bag, backbag, smartphone cover ecc,
– Ask for a development of a new model aligned with your budget and desired features.
Models
Features : fonctional, unisex, sober and chic !
It fulfilled the need of daily life. Dimensions A4 with pockets and separations inside. A very good friendly bag to accompany you, your colleagues or clients. 
Proudly made by craft women in Vietnam. Loup Chocolat is very happy to underline this know-how, a real precious human capital to be valorized and make it known around the world.
The two models are: 
FACE (how great you are)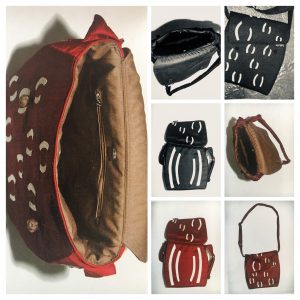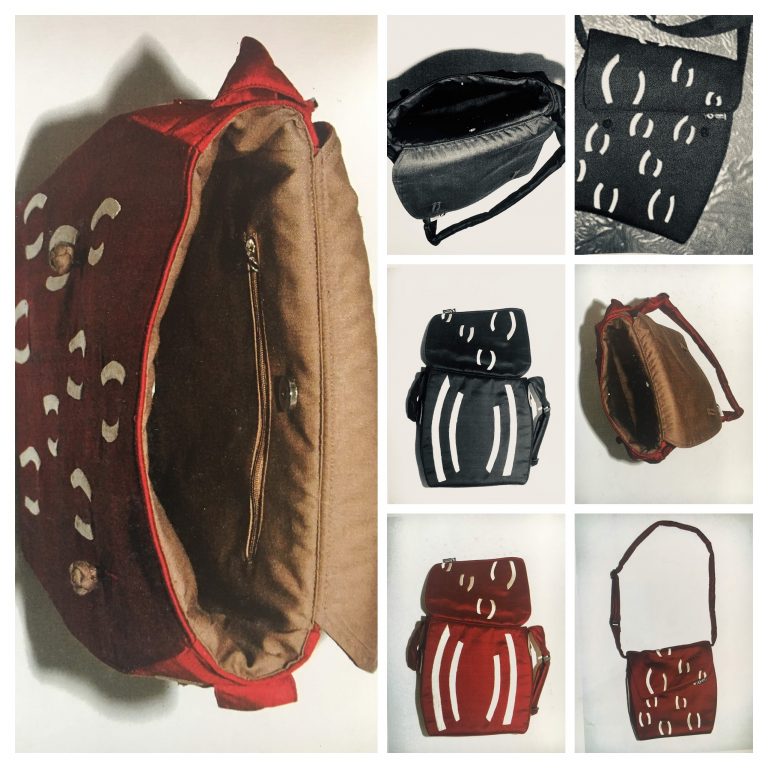 HAPPY CIRCLES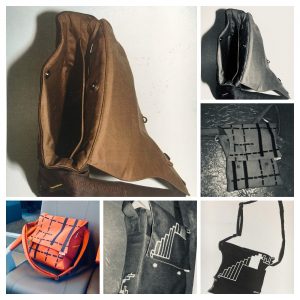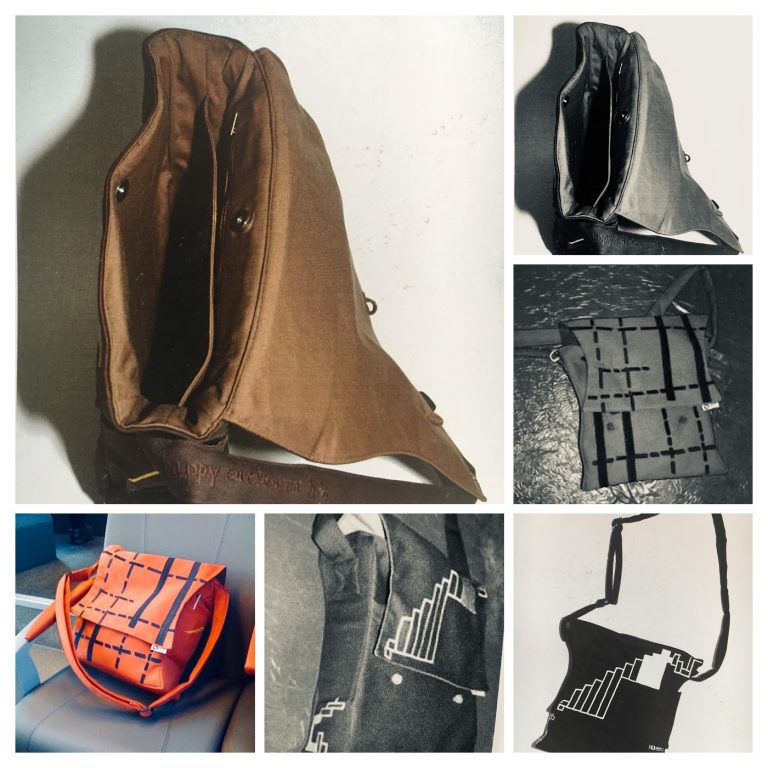 CHO & more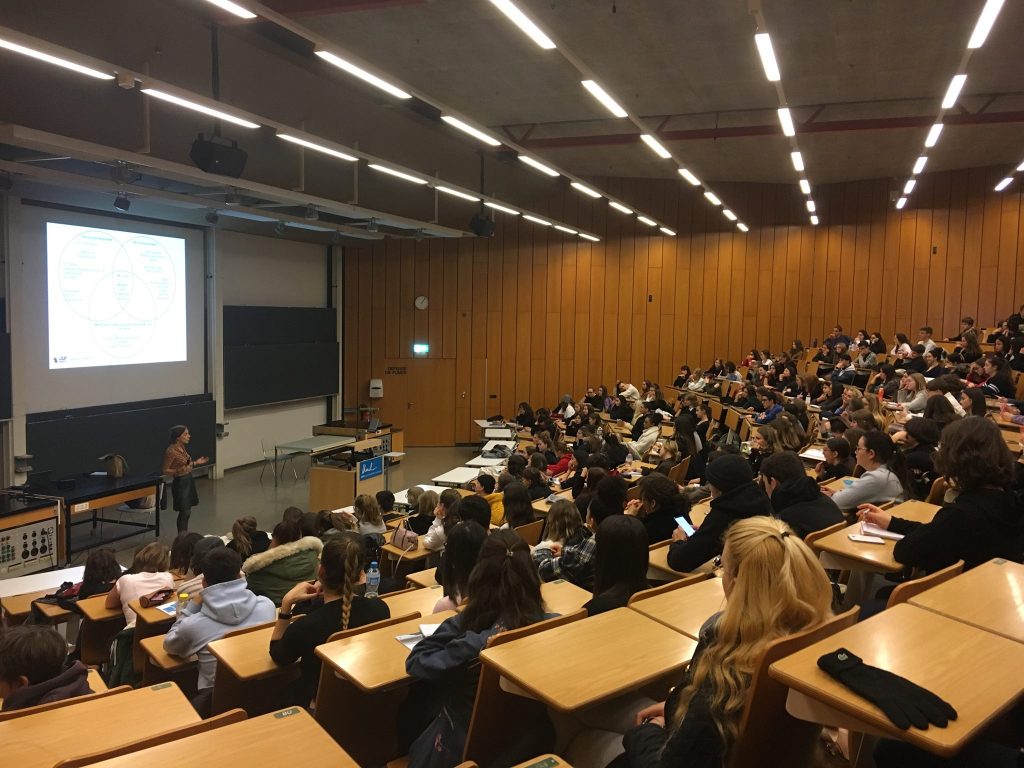 Services
Conferences about Loup Chocolat in general. Different subjects possible (unusual career path, philosophy, bag design, international cooperation ecc.)
Chief Happiness Officer: As founder of Loup Chocolat vision : For a world free to be responsible and creator of its happiness, I offer my services in happiness area. With the role of CHO on demand or itinerant,  I put my eperience and my personal researches serving people in order to help them to make the decision to face their own greatness, to aim for a goal, to reinforce confidence and trust towards their own strenght. All this guided by heart, determination and touch of humour, no matter the start point.

This service is adressed to companies, organisations NGOs and communities around the world facing a (new) challenge.

Event & project co-organisation in social, cultural or craft area for less privileged people.
Projects
As we know, Loup Chocolat is one entity which name – as a metaphor – represents the possible greatness of this world to be human.
Proposing this awareness of our individual and/or collective greatness through different areas is the goal of the following projects or realizations.
The bags (and others accessories) as well as the offered services such as CHO on demand or the collaboration to a common project are the main resources which enable Loup Chocolat to continue to create and build what comes next. Here are the projects:
In progress:
Writing projects
A book about the philosophy and bith of Loup Chocolat
Sketchs (humour)
In development:
Loup Chocolat as philosophic label for important profit companies
The partnership is based on *the simple charter that will enable companies, communities or cities to demonstrate the wiling to act for a better world and make even more visible the own actions.
If you are interested in as a company, a community or a city, you can adhere to Loup Chocolat vision. In that way, your help will be precious in supporting projects that which aim is to create a better opportunity and
wealth sharing on all the social ladder.
*Here are the main points included in the charter
We are conscious about the challenge the asks us to face and we understand that our contribution is important,
If everyone do something, this world greatness is possible,
We choose now to do actions within our domain and aligned with our means
This label support Loup Chocolat projects and at the same time enable each companies, communities and cities to define or communicate about their own actions.
Interested ? Please contact us and let's define a partnership.
Social, cultural, entertaining and inspiring events for less privileged people or communities of this world.
The causes that Loup Chocolat wishes to support are : the empowerment of the women-mothers around the world, the fight against hunger, helping and supporting people whose suffering goes beyond visible scars.
Follow the progress on the blog and social networks.
Maria Grazia PAPARONE, alias Mamma Louve
Donations
WANT TO MAKE A DONATION ? Whatever is the amount, every donation will make Loup Chocolat going further. Thanks for your generosity and help.

IBAN CH15 0900 0000 1749 9524 8
LOUP CHOCOLAT, 1854 LEYSIN